Marina Mandalina Šibenik
Marina Mandalina Šibenik lies in the immediate vicinity of Šibenik, only 2 km south-east of the city, situated on the peninsula called Mandalina at the Šibenik Bay. Šibenik has regular bus and railway connections with all Croatian cities as well as with Italy, Austria and Slovenia. There is no international airport in the immediate vicinity of Šibenik, nevertheless, the motorway is and the nearest airports in Zadar and Split are only 40 minutes away (65 km). Šibenik is therefore, due to its favourable traffic connections, an ideal place to begin a yacht charter from.
The distance from Marina Mandalina Šibenik to the below stated cities:
Zagreb: 337 km
Ljubljana: 412 km
Trieste: 372 km
Vienna: 697 km
Rijeka: 292 km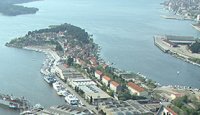 Marina Mandalina Šibenik has 200 water and power supplied berths, 200 dry berths, a 50 t crane, and the following facilities: a reception, a supermarket, a bank, a coffee bar, a restaurant, a parking lot, a nautical repair service shop and toilets with showers.