Luxury Croatia Yacht Charter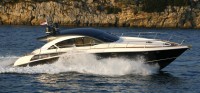 The luxury yacht everybody dreams of available at the Adriatic sea everybody longs for.
The Mondial 54 is constructed to provide maximum comfort and safety at sea in all weather conditions and provides the highest specification for a 20 meter yacht: spacious salon, large cockpit with platform, three cabins, skipper cabin and an abundance of quality. You can rent this luxury yacht starting from 12,500 €/week.
New Service: IzziCarHire
IzziYachtCharter is proud to present new service for Central Europe: IzziCarHire. Connecting best local car rental companies directly to IzziCarHire you receive premium service combined with lowest rates. Check the offer:
Links - Yacht Charter Croatia
Optimize your site with our Directory
Kecco - Free Quality Web Directory
Digital Directory, Europe's guide to the Web
Easy Seek - Free Search & Directory
My Green Corner Directory the best web directory, offering free submission in an human edited catalog.
TouristClick.com online travel destination guide and Travel directory
Visit Croatia Travel guide for Croatia Holidays
San Juan Island Yacht Charters - Bellhaven provides boat charters and yacht sales in the Pacific Northwest. Get all the info you need for cruising in the Canadian Gulf Islands.
m-i-link.com
Focus on Asia-Pacific's maritime industry - feature maritime directory, marine links, job centre, marketplace, event calendar, community, forum, dictionary, acronym, conversion calculator, quick reference guide, mariner's formulae, sea ports finder and more.
Fred Dovaston Yacht Crew Recruitment - Dovaston is world's top yacht crew recruitment agency. We recruit professional qualified and experienced crew for luxury yacht, superyacht, megayacht, private yacht and charters.