Marina Kaštela Split
Marina Kaštela Split lies on the north-east side of the Kaštela Bay only 12 km away from Split. Split has regular bus and railway connections with all Croatian cities as well as with Italy, Austria and Slovenia. Split also has an international airport, which is only 7 km away from Marina Kaštela Split. All these favourable traffic connections make Split an ideal place to begin a yacht charter from.
The distance from Marina Kaštela Split to the below stated cities:
Milan: 520 km
Munich: 630 km
Ljubljana: 543 km
Trieste: 469 km
Vienna: 935 km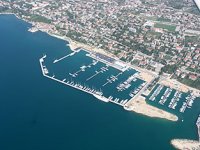 Marina Kaštela Split has 420 berth equipped with water and power supply, 200 dry berths, a 60 t crane, a 40 t transporter for safe transportation on land surfaces and a 5 t lifting crane. Marina Kaštela Split has also the following facilities: an air-conditioned reception room for charter guests, a reception, a supermarket, a coffee bar, a restaurant, 437 parking spaces, a nautical repair service shop, toilets with showers and used oil collecting tanks.